Everywhere is the Best Seat, Montclair, NJ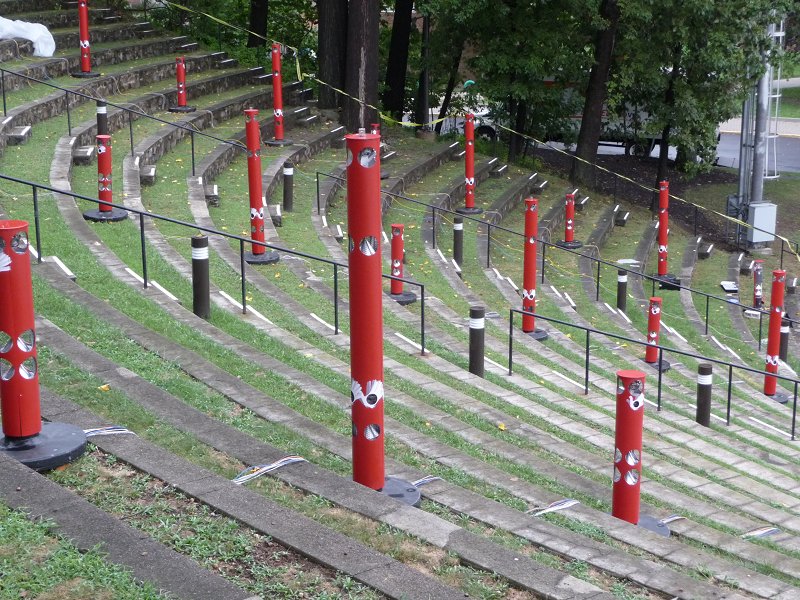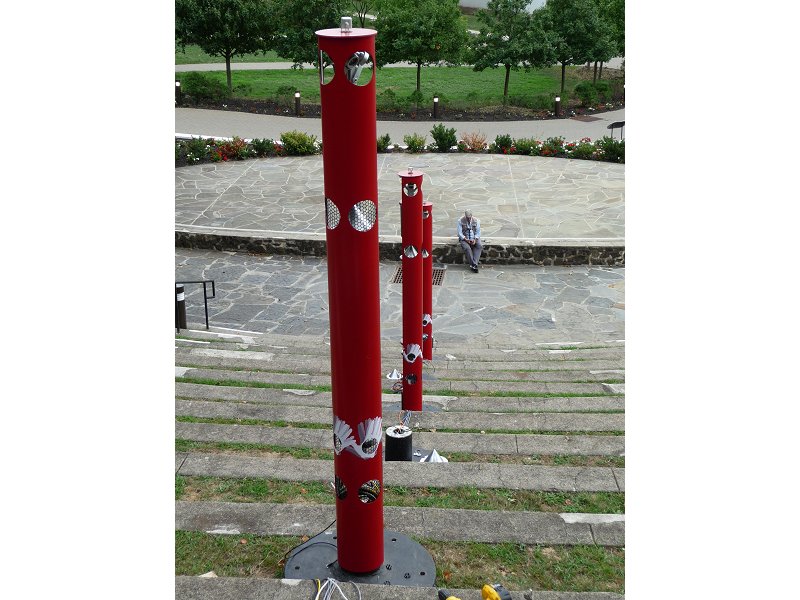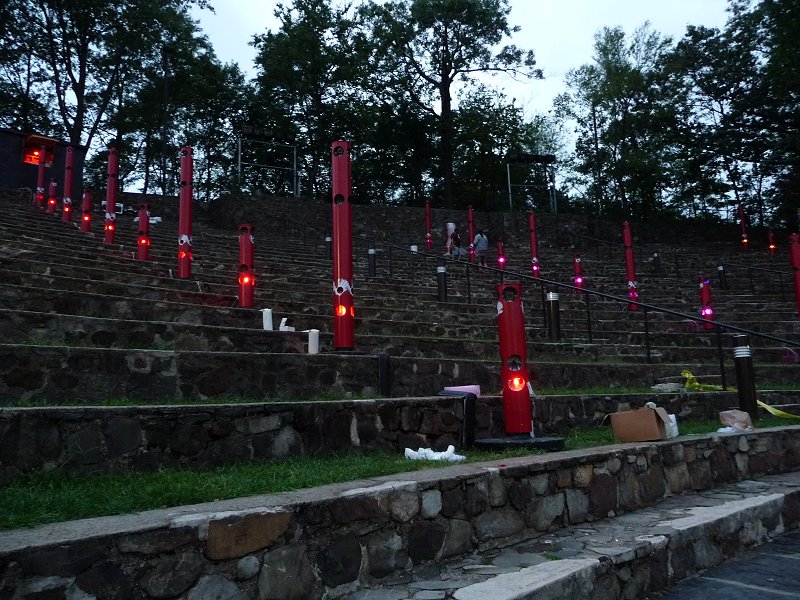 Everywhere is the Best Seat
Montclair, NJ
The magical wit, radical imagination and generous heart of composer/architect Christopher Janney resonated through Montclair State University in four ways during September, 2010. "Everywhere Is the Best Seat," was an interactive sound/light installation that commandeered the University's 80-year old Amphitheater through mid-November. For this installation, Christopher Janney, who has a long history of creating sonic and light environments in existing public spaces, was inspired by John Cage's democratic comment, "Everything you do is music/And everywhere is the best seat." Commissioned by Peak Performances @ Montclair State, Montclair, NJ , this user-friendly, interactive work, was comprised of 36 columns equipped with sensors, inviting passersby to create their own patterns of sounds and light, giving new, vibrant life to this WPA-constructed amphitheater.
A free 60 minute concert, "Disembodied Instruments," on September 11 at 10pm integrated the electronic sounds from "Everywhere Is the Best Seat" with live performances by a Janney-picked group of all-star musicians. Saxophone player Stan Strickland, bass player Wes Wirth, tabla player Jerry Leake, Eddie Grenga on the electric piano all together with vocalists Dave Revels, Jimmy Hayes band Cliff Garten from the "kings of a cappella," The Persuasions.
Also, an exhibition entitled "Architecture of the Air: The Sound and Light Environments of Christopher Janney," was on display in the Alexander Kasser Theater lobby, from September 1 through November 14. Celebrating Janney's unique fusion of music and architecture, the exhibition featured large color transparencies of his previous interactive installations including "Rainbow Cove: Red and Green," "Harmonic Runway," "Sonic Forest," "Soundstair" and "Sonic Plaza." There were also images of what Janney calls "A House is a Musical Instrument," series with one created in Lexington, MA and another in Kona, HI.
Lastly, on October 12 at 7pm, there was the tri-state debut of "What is a Heart?," a documentary chronicling "Heartbeat," the celebrated performance piece Janney has been exploring and restaging on and off over the last 25 years. He first set the work in 1983 on dancer/choreographer Sara Rudner, then principal with Twyla Tharp Dance. In the late 1990s, Mikhail Baryshnikov asked Janney and Rudner to set it on him for a season at New York City Center and a world tour. In 2008, the American Heart Association underwrote the creation of a new version with New York City Ballet dancer Emily Coates and the "kings of a cappella," The Persuasions. The film was directed by Theodore Bogosian/Fox Point Pictures.