Exploring the Hidden Music
Exploring the Hidden Music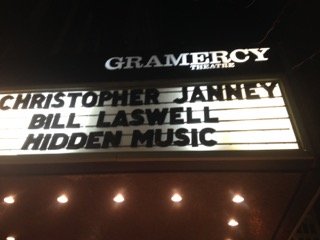 The first ever collaboration of forward-thinking architect/composer Christopher Janney and legendary bassist / producer Bill Laswell was a wild ride on the highest artistic level. The duo, with its cast of world-class musicians, utilized music composition, dance, sound, and visuals.
Janney, renowned for his work interrelating architecture and music, received a B.A. in Architecture from Princeton University (magna cum laude), M.S. in Environmental Art and Performance from the Massachusetts Institute of Technology, while continuing private studies in percussion and at the Dalcroze School of Music in New York. In his formative years, he worked with numerous artists including Jack Youngerman, Merce Cunningham, Sara Rudner, John Cage, Otto Piene and Claes Oldenburg.
A Visiting Professor at both The Cooper Union and Pratt Institute, Janney has created numerous permanent interactive sound / light installations attempting to make architecture more "spontaneous" and music "more physical." The latter can be experienced in his new version of "HeartBeat," a dance / music / cardiology mash-up, made famous In the 1990's with Mikhail Baryshnikov. As well, in Janney's "Visual Music Project," he introduces visual music in "real time" performing on his custom "visual synthesizer."
Acclaimed bassist / producer / visionary Bill Laswell provided the perfect match as the performance's Musical Director. Over the course of three decades, the GRAMMY-winning producer has been one of the most prolific and restlessly creative forces in contemporary music. A sound conceptualist , he has put his inimitable stamp on nearly 3,000 recording projects by such artists as Mick Jagger, Yoko Ono, Iggy Pop, Laurie Anderson, Brian Eno, Bootsy Collins, Nine Inch Nails, Motörhead, Peter Gabriel, Blur, The Ramones, George Clinton, Pharaoh Sanders, Dalai Lama, Matisyahu, Angélique Kidjo, DJ Krush, RAMM:ΣLL:ZΣΣ, Sting,The Last Poets, Afrika Bambaataa, Julian Schnabel, Whitney Houston, Manu Dibango, and Herbie Hancock. Along with Chris Blackwell, founder of Island Records (Bob Marley, U2), he established the AXIOM label in 1989. M.O.D. Technologies, his most recent imprint is releasing projects by Method Of Defiance, Lee "Scratch" Perry, PRAXIS, Garrison Hawk with Sly & Robbie, Bernie Worrell, Jon Batiste & Red Hot Chili Peppers' drummer, Chad Smith, and progressive / futuristic music from Ethiopia and Morocco. Laswell has worked from everyone in Asian ancient music to avant-jazz, rock, hip-hop and DJ culture.
The performance featured world-class musicians including Trilok Gurtu (John McLaughlin, Joe Zawinul), Dave Revels (The Persuasions), Sheila E. (Solo, Prince, Ringo Starr) and Lynn Mabry (Talking Heads, Sly Stone, Stevie Nicks, Bette Midler). In Sara Rudner, Janney acquired a prominent choreographer and long-time collaborator who currently holds the position of Director of Dance at Sarah Lawrence College. The interactive sound / light installations at the door and a new interactive light work "Touch my Light" over DJ Adam Gibbons (Uhuru Afrika) set with live drumming rounded out the program.
Together Janney and Laswell "explore the hidden music" – found in spaces, the human body and in the meeting of artistic minds.
---
Walking into the Gramercy Theatre on 23rd Street in New York, the setup was the clue; the start of an evening of the unexpected. Beginning with this glowing red-lit space, it was hot and ready for action the likes of which you had never seen, together with "CyberMonks", a quadraphonic audio environment moving sound images around the room. "Exploring The Hidden Music", a passion of Architect/Composer Christopher Janney's for over 40 years, brought together Bill Laswell, Sheila E, and Trilok Gurtu, to work the space, particularly for his well-known piece, "Heartbeat". Janney and others lightly voiced patterns of sound over a syncopated score with the Sara Rudner-choreographed dancers that alternately agitated and soothed the room, accompanied by the blended sounds of these precisely matched, unique, and generous performers and their very special artistry. Janney's work with sound and space, his "Sonic Forest" out on the sidewalk and "Visual Music"- Janney playing images live on a huge video wall behind the band- connect us in ways to both one another and the source and space of play that needs to be experienced. Listening is only part of the show.
– Lance Jay Brown, FAIA, DPACSA,
President- American Institute of Architects, New York Chapter
The Pace Report: "Exploring The Hidden Sound" The Christopher Janney Interview from Brian Pace on Vimeo.